Autograph Letter Signed ('Thos: Day') to 'Edmund Taylor Esqe | Castle Yard Windsor | Berkshire', including original unpublished forty-line manuscript poem by Day entitled 'Lines address'd to Windsor', in which he has 'spit his spite' on the town.
Author:
Thomas Day [Edmund Taylor; Windsor, Berkshire; Oxford Street; Georgian London; John Romney?; Matthew Cotes Wyatt?]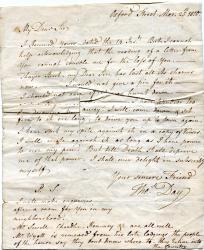 Publication details:
25 March 1810; Oxford Street.
SKU: 7938
The work of a cultured and witty man, but not by the author of 'Sandford and Merton', who died in 1789. While possible authors include the 'Mr. Thomas Day, solicitor, Woburn, Bedfordshire', whose death at the age of 47 on 18 February 1824 was reported in The Times (5 March 1824), and the Thomas Day who lived around this time at Montague Street, Russell Square, the most likely candidate, considering the references to 'Romney' and 'Wyatt' is the Thomas of 'DAY William, and Thomas Day, of No. 95, Gracechurch-street, in the city of London, oilmen', who went bankrupt in 1841. The item consists of a 4to bifolium (letter: recto of first leaf; poem: verso of first and recto of second leaf; address: verso of second leaf). With postmark and fragment of red wax seal. Text clear and entire, except for two words of the poem lost on the breaking open of the seal. Aged, creased and ruckled, with contemporary repairs including the highly unusual neat sewing of a 9 cm closed tear. Day writes that 'the reading of a letter from you cannot console me for the loss of you. - Thayer Street, my Dear Sir, has lost all its charms now, - I would not give a pin for it - I should not care if it was burnt down. - I hate to go near it. - I hate Windsor too for decoying you away. I will come down & set fire to it ere long, to drive you up to town again. I have spit my spite against it in a copy of Verses.' In a postscript he writes that 'Mr. Sewell, Chandler, Romney [John Romney (1786-1863), engraver?] &c are all well. Mr. Wyatt [Matthew Cotes Wyatt (1777-1862), painter and sculptor?] is removed from his late lodgings, the people of the house say they dont know where to, they believe into the Country'. The poem begins 'Oh! Windsor, how shall I in language tell, | The Grief and Envy Thou hast in me raised; | I hate Thee now, tho' once I loved Thee well, | And often have Thy various beauties prais'd.' Describes the 'various charms' of Windsor ('a Royal castle's pride', 'A Terraced hight [sic]', 'Thy Forest's ample shade'), and how these do not 'alleviate my loss, [...] Since Thou hast stol'n my Valued Friend from me.' Concludes: 'May Fate torment You to the end of Time, | Or till you send my Valued Friend to me.'
Phone enquries
RICHARD M. FORD
Tel: +44 20 8993 1235