Autograph Note Signed ('Eleanor M Sidgwick') to 'Miss Chittenden, Cambridge Training Corps, Wollaston Road, Cambridge'.
Author:
Eleanor Mildred Sidgwick [née Balfour] (1845-1936), Principal of Newnham College, Cambridge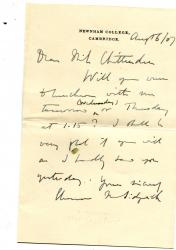 Publication details:
16 August 1907; on letterhead of Newnham College, Cambridge.
SKU: 8182
16mo, 1 p. In a bifolium. Seven lines. Clear and complete. Good, on lightly-aged paper. In stamped, addressed envelope. Asks if Chittenden will 'come to luncheon' on one of the two following days, as Sidgwick 'hardly saw' her on the previous day.
Phone enquries
RICHARD M. FORD
Tel: +44 20 8993 1235