Autograph Letter Signed ('J. Ashby-Sterry') to 'my dear Worth'.
Author:
Joseph Ashby-Sterry (c.1835-1917), English novelist, poet and artist, contributor to 'The Graphic' under the name 'Bystander'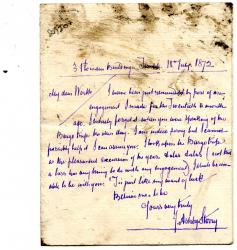 Publication details:
18 July 1872; 3 Plowden Buildings, Temple.
SKU: 9208
16mo, 1 p. Bifolium. Eight lines. Text clear and complete. On stained, aged paper. An uncommon autograph, written in a distinctive stylised hand in purple ink. Reluctantly announcing his inability to go on 'the Barge trip', which he had looked upon 'as the pleasantest excursion of the year, & alas & alas (not that a lass has any thing to do with my engagement) I shall be unable to be with you'. According to his obituary in The Times, Ashby-Sterry 'knew the Thames as intimately as he knew London, and his favourite recreations were rowing and sailing and detailed explorations of old and new London'.
Phone enquries
RICHARD M. FORD
Tel: +44 20 8993 1235