Leaf from the notebook of the Victorian artist George Cruikshank, carrying two pages of serious sketches, each signed by him 'Geo Cruikshank'.
Author:
George Cruikshank (1792-1878), English caricaturist and illustrator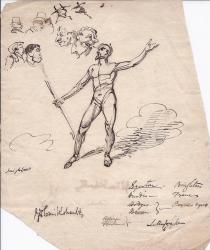 Publication details:
Undated, but on paper with watermarked date 1824.
SKU: 11628
In ink on both sides of a 4to leaf of wove paper, watermarked 'J GREEN & SON / 1824'. None of Cruikshank's drawing or writing is affected, but one corner of the leaf has been cut away, and there is another thin strip cut from another. Fair, on aged paper. One page carries a full-length drawing of a bearded athletic man in shorts and sandals, making a sweeping theatrical gesture with his right hand, and holding a spear in his left. Beneath the drawing is Cruikshank's signature, and a study of the left foot. On the reverse is cruder sketch of the same figure reversed, with seven small caricatures of male heads. At the foot of the page is Cruikshank's signature, and the following: 'Neighbor / Egerton - Brighton / Hurdis - France / Hodge. / Bevan. / Boenes [sic] Ayres / Robinson / Fairburn / L
'.
Phone enquries
RICHARD M. FORD
Tel: +44 20 8993 1235