Mimeographed Sussex Police Force document from 1945, giving new 'going-off points' on 29 beats within No. 3 District in Brighton, together with six more mimeographed documents, titles including 'Arrest Without Warrant' and 'Identification Methods'.
Author:
[Sussex Police Force, 1940s procedural notices] [British policing; law enforcement]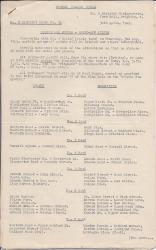 Publication details:
Documents dated 1945 and 1947. [Sussex Police Force, Brighton.]
SKU: 10384
Seven documents, all in folio, a total of fifteen pages. Texts clear and complete. Good, on aged paper, with one document with rusted staple. All are police circulars, but only the first is clearly specific to Brighton. ONE: 'Police Box System - Going-off Points'. 3 pp. Short introduction, followed by a list of points to be deleted, and their substitutes. TWO: 'No. 6 District Police Training Centre, Larceny Act, 1916'. 1 p. Table giving 'Time', 'Place', 'Manner' and 'Intent' for four offences from Sacrilege to Housebreaking with Intent. THREE: 'Arrest without Warrant | (Police Review Friday, April 4th 1947)'. 1 p. FOUR: 'Judges' Rules'. 2 pp. FIVE: 'Home Office Circular No. 238/1947 | Procedure in taking statements from persons under caution'. 1 p. FIVE: 'Identification Methods. | IDENTIFICATION PARADES carried out in accordance with rules issued by the Secretary of State' and 'IDENTIFICATION BY PHOTOGRAPHS'. 2 pp. SIX: 'Prevention of Crimes Measures'. 2 pp, landscape. SEVEN: 'Air Navigation'. 3 pp.
Phone enquries
RICHARD M. FORD
Tel: +44 20 8993 1235