Large engraved armorial bookplate of Hereson de Brecksel.
Author:
Hereson de Brecksel [bookplate]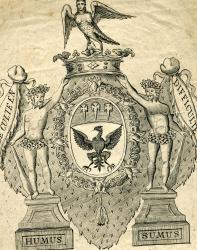 Publication details:
Date and place not stated. [Eighteenth century?]
SKU: 7766
On one side of a piece of wove paper 19 x 14.5 cm, and with the image extending almost to the edges. Lightly aged and creased, but good overall. An usual design, with the coat of arms within a fleece held up by two figures of Hercules, both on pedestals, the one of the left marked 'HUMUS' and that on the right 'SUMUS'. The fleece folds over the left-hand Hercules's right shoulder and reads 'LE CULTE EN' with 'DIFFICULTE' over the left-hand Hercules's left shoulder. Topping the whole design, above a coronet, is a harpy, and at the foot of the paper is 'Hereson de Brecksel'. Little is to be discovered about Hereson de Brecksel, but there is apparently a reference to him in Notes and Queries for 1849.
Phone enquries
RICHARD M. FORD
Tel: +44 20 8993 1235