Seven-page advertisement, written by Cobbett, and headed 'This Day is published, Cobbett's Annual Register, Vol. I. From January to June, 1802.'
Author:
William Cobbett [Cox, Son, and Baylis, Great Queen Street]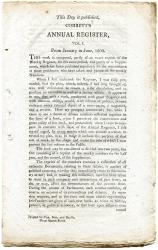 Publication details:
Dated 'Pall Mall. | October 11th, 1802. } W. COBBETT.' ['Printed by Cox, Son, and Baylis, Great Queen Street.']
SKU: 7468
8vo: 8 pp. Unbound. Stabbed as issued. Very good, on rough-edged wove paper. The seven-page advertisement, signed in type by Cobbett, is succeeded by a page headed 'New Books, published by COBBETT and MORGAN'. (Eight titles are listed.) The advertisement is a personal address from Cobbett, the second paragraph casting valuable light on his motives and intentions: 'When I first undertook the Register, I was fully persuaded, that the plan, which, indeed, I had long thought of, was well calculated to ensure a wide circulation, and to produce an extensive as well as a lasting effect. It appeared to me, that such a work, conducted with great diligence and with common ability, would, with relation to politics, at once embrace every rational object of a news-paper, a magazine, and a review. Here my prospect terminated; but, when I came to see a dozen or fifteen numbers collected together in the form of a book, and particularly when I came to compare its contents with those of the Annual Registers, I felt myself urged, by every motive which can actuate a writer, to extend my plan, so as to make it include the purpose of that sort of work, in the shape and under the title of which I now present the first volume to the Public.' The only copy of this item listed on COPAC is at the British Library.
Phone enquries
RICHARD M. FORD
Tel: +44 20 8993 1235