[Sims Reeves, English operatic tenor.] Autograph Note Signed ('J. Sims Reeves') in response to a request for an autograph.
Author:
Sims Reeves [John Sims Reeves] (1821-1900), English operatic tenor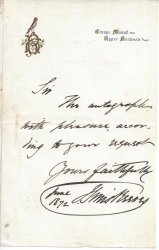 Publication details:
June 1872. On letterhead with monogram of his initials, and address Grange Mount, Upper Norwood.
SKU: 23963
See his entry in the Oxford DNB. Even towards the end of his life Bernard Shaw could remark that 'he can still leave the next best tenor in England an immeasurable distance behind'. 1p, 12mo. In good condition, lightly aged, with minor traces of mount to inner margin. Folded once. Very nice embossed letterhead, printed in gold, brown, green and red, with bird perched on top of a treble clef, entwined with foliage and a twisted branch in the shape of the 'R' of 'Reeves'. Reads: 'Sir / This autograph with pleasure, according to your request / Yours faithfully / June 1872 / J. Sims Reeves'. See image.
Keywords:
Phone enquries
RICHARD M. FORD
Tel: +44 7884 315 545