Broadside titled 'King Crispin. The ancient and modern history of King Crispin, with a particular account of the plan and order of the grand procession, time of meeting, &c.'
Author:
Robert Martin, Edinburgh printer [Freemasonry; the Craft; broadsides; street ballads; handbills]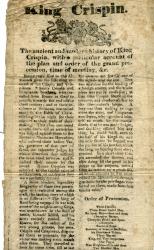 Publication details:
Edinburgh: 'Printed for, and sold by R. MARTIN . . . . Price one penny. | Glass, Printer, South Niddry Street'. [Between 1832 and 1851?]
SKU: 8617
Printed on one side of wove paper roughly 41.5 x 17 cm. Text clear and complete. On aged, creased and grubby paper. In two columns, headed by the title and royal crest. Begins 'Bannatyne's Key to the Almanack gives the following account of Sts Crispin and Crispianus, brothers, [...]'. Concludes: 'In a short time Crispin ascended the throne, [...] he was sainted and the Shoemakers, through gratitude for the privileges conferred on them, made him their tutelar saint'. This is followed by an 'Order of Procession' and the final announcement: 'The Craft are to meet in the Abbey, at 10 o'clock on Wednesday Morning.' Dated from the SBTI, the publisher Robert Martin being active at a number of Edinburgh addresses between 1832 and 1851. There is no Glass listed in South Niddry Street in the SBTI. The three likely candidates are E., John and Thomas Glass, probably related, and active at a number of different Edinburgh addresses between 1819 and 1865. A scarce piece of ephemera. The only copies on COPAC are at the British Library, the National Library of Scotland and Glasgow.
Phone enquries
RICHARD M. FORD
Tel: +44 20 8993 1235