Handbill advertisement for 'The Celebrated Working Model, by Real Water, of a Copper Mine, [...] Now on View, At Exeter Hall, Strand.'
Author:
T. Smith, Exeter Hall, the Strand [Robert Robinett, printer, White Street, Borough; Shows of London]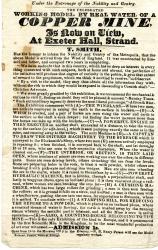 Publication details:
[1834.] 'Robinett, Printer, White St. Borough.'
SKU: 8094
Printed on one side of a piece of wove paper, dimensions 22 x 14 cm. Text clear and complete, on aged and lightly-spotted paper, with minor wear to extremities. Headed 'Under the Patronage of the Nobility and Gentry.' 48 lines of text, including positive quotations from the Observer, Christian Advocate, Sunday Times and Albion and Star. Describes ten aspects of the exhibition, lettered A to K, including the conveyance of the ore 'to the surface by a --- (G) --- POWERFUL HYDRAULIC MACHINE, first in kibbles, through a perpendicular shaft, and lastly in waggons drawn upon an inclined plane'. Ends 'This is the only Exhibition of the kind in Europe, and it is pronounced by the first Scientific Men in the Kingdom, to be the most wonderful production of art ever witnessed. --- ADMISSION 1s. | Open from 10 in the Morning till 9 in the Evening. - N.B. Every Person will see the Model regularly worked.' The following notice appeared in the Theatrical Observer in 1834: 'Hearing that the celebrated Copper Mine, at Exeter Hall, was soon to close, went to view the Model, worked by real water — fancied myself wandering in the recesses of the earth, every part being so accurately described — quite delighted!' BBTI has the printer Robert Robinett active between 1828 and 1848.
Phone enquries
RICHARD M. FORD
Tel: +44 20 8993 1235