Original typescript with manuscript corrections by Elbert Hubbard, regarding Tennyson's friendship with Arthur Hallam, and with a quotation from Whitman.
Author:
Elbert Hubbard [Elbert Green Hubbard (1856-1915)] [Alfred Lord Tennyson; Arthur Hallam; Walt Whitman]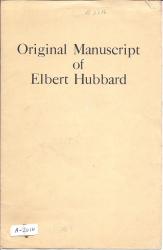 SKU: 9630
12mo, 3 pp, on separate loose leaves. Forty lines. Text clear and complete. Good, on browned paper. Laid out for printing, and with the page numbering 21 to 23 (from 12 to 14). Loosely inserted in a folder with 'Original Manuscript of Elbert Hubbard' printed on the front, which also carries two accession marks. Complete in itself, the item begins 'The beauty with which friendship adorns its object becomes at last the possession of the friend.' Ends: 'And the dwelling in sweet, sad memory on [corrected in manuscript from 'worship of'] the exalted virtues of the one that is gone tends to crystalize the same virtues in the heart of him who meditates upon them.' The work of which this item forms part is unknown. A couple of slips carrying catalogue entries for the item are loosely inserted in the folder, one entry dating it to 'c. 1910'.
Phone enquries
RICHARD M. FORD
Tel: +44 20 8993 1235