[printed art exhibition catalogue] Société des Beaux-Arts. Notice des ouvrages d'Arts exécutés par des Artistes vivants et exposés aux salles de l'Hôtel-de-ville de Malines le 25 septembre 1814,
Author:
Société des Beaux-Arts, Malines [Mechelen; Mechlen; Belgium; P. J. Hanicq; art catalogue; Belgian painting]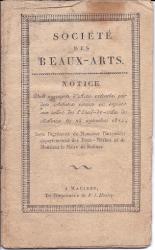 Publication details:
[1814.] A Malines, De l'imprimerie de P. J. Hanicq.
SKU: 9520
12mo, 22 pp (followed by final blank leaf). Stitched pamphlet. Text clear and complete. On discoloured and worn paper. 152 'ouvrages d'arts' arranged in alphabetical order under the names of the artists, from 'François Alewaters, peintre à Malines' and 'Henri Adams, à Malines' to 'G. P. Wuyts, de Lierre' and 'L. Zwitzer, de Malines'. Preliminary notice headed 'Police du Salon'. Scarce: no copy on WorldCat or COPAC.
Phone enquries
RICHARD M. FORD
Tel: +44 20 8993 1235