Autograph Letter Signed from 'Jamy Millar' of the Clyde Salmon Fishing Company to H. Davidson, Edinburgh, offering to buy 'a Lease of Eateen years of all the Fishings on the shores of Monzies Property on the shores of Holly Lock & Lock Long' Scotland
Author:
Jamy Millar, of the Clyde Salmon Fishing Company [H. Davidson of Edinburgh; Holy Lock and Lock Long, Scotland; salmon fishing; fisheries]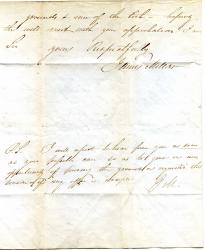 Publication details:
19 June 1832; 45 East Clyde Street, Glasgow.
SKU: 9463
4to, 2 pp. Bifolium. Addressed ('H. Davidson Esqr | | No 3 North Charlotte St | Edinb') and docketed ('Offer | The Clyde Salmon Fishing Company. | For Menzies Fishings in Holy Lock'), with two postmarks, on the reverse of the second leaf. Twenty three lines of text (including four-line initialled postscript), clear and complete. Good, on aged paper, with hole in second leaf from breaking of wafer. Discussing proposed terms, ending 'Or in place of a sent will give the net proceeds of every tenth fish after marketing -'. Last paragraph begins 'As this season is so far advanced & if we come to terms for the Lease now wanter - I wish it to be understood that the Compy have liberty to fish these shores for this season in order to prove the grounds [...]'.
Phone enquries
RICHARD M. FORD
Tel: +44 20 8993 1235