A Letter to the Editor of the British Review, occasioned by the notice of "No Fiction," and "Martha," in the last number of that work. [Annotated copy of Francis Barnett (the 'Lefevre' of Reed's 'No Fiction') bound up with a review of the two books.]
Author:
Andrew Reed (1787-1862), Congregational minister [Francis Barnett (b.1785)]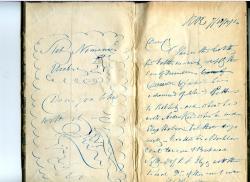 Publication details:
[1823?] London: Printed by H. Teape, Tower-hill: Sold by Francis Westley, Stationers' Court, and the other booksellers.
SKU: 8379
Excessively scarce, with no copy in the British Library and the only copy on COPAC at Cambridge, where it is tentatively dated to 1823. 8vo: 80 pp. Followed by five leaves (pp.373-382) from 'The Evangelical Magazine and Missionary Chronicle' for 1839, in which an anonymous review of Reed's two books features on pp.378-382. Interleaved (all blank). In simple contemporary blue-grey half-binding with cloth spine and corners and marbled boards. Tight copy on aged paper in worn binding. Neat contemporary repair to blank reverse of title. The circumstances of this publication are as follows. In 1819, apparently believing his former friend Barnett to be dead, Reed had published the autobiographical novel 'No Fiction', with Barnett as 'hero' under the name 'Lefevre'. The complaints of an outraged Barnett, who by his own account suffered from mental illness, provoked a written response from Reed, which was published by Barnett in 1822 as 'A threatening letter from Douglas (the self-acknowledged author of "No fiction,") to Lefevre'. Barnett followed this up in 1823 with two works: 'Memoirs of Francis Barnett, the Lefevre of "No Fiction" and 'A Reply to Mr. Reed's Advertisement to the seventh Edition of "No Fiction".' The title-page of the present item carries the following inscription: 'Presented to Mr. Barnett by Mr. Herbert of the Library Brunswick Place Stoke Newington Pond Novr. 8th 1844.' Barnett's ownership inscription is at the head of the title: 'Francis Barnett | 16 Great Charlotte St'. Barnett's hand is undisciplined [symptom here of an unsettled mind] and hard to decypher. He has decorated the front pastedown with flourishes, surrounding the words 'Stat Nominis Umbra | Do as you like with it'. There is a long and confused signed note by him on the front free endpaper, dated 'RR 7/12/12/41' [sic]. Signed and dated instructions to the binder on recto of flyleaf, with verso carrying another signed note by Barnett, to 'Wilson', dated 'Grove House 22/10/44', asking Wilson to send the book to ', with your marginal Notes to it either with or without your Name'. Underlinings and notes to last three pages. At foot of final page Barnett writes: 'What did the pretended Non Com of 1824 say to this. Prais'd it to the skies - Dr. Brown LLD wrote a laboured defense of Reed in the Investigation; and it must have been against his Conscience. He could not put his hand to his brow & say Mens sibi conscia recti'. On rear flyleaf: 'told Mr. Drew of it as he was setting life, as it was printed at the Caxton Press, Fisher & Co., but if, as well as the British Review, which Reed replied to died a Natural Death a few Months after the publication of this | F Barnett | 22/10.44'. 'For more information see Reed's entry in the New DNB, and R. J. Helmstadter's 'The Reverend Andrew Reed (1787-1862): evangelical pastor as entrepreneur' (in R. W. Davis and R. J. Helmstadter, eds, 'Religion and Irreligion in Victorian Society: Essays in honor of R. K. Webb', 1992).
Phone enquries
RICHARD M. FORD
Tel: +44 20 8993 1235