Autograph Card Signed to unnamed male correspondent [the headmaster of Harrow School?].
Author:
Anna Swanwick (1813-1899), English author, translator and social reformer [Reginald Bosworth Smith (1839-1908), Housemaster of Harrow School]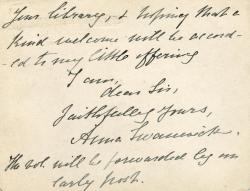 Publication details:
20 March [no year, but after 1892]; on letterhead of 23 Cumberland Terrace, Regents Park, N.W.
SKU: 8264
On both sides of the gilt-edged card, which is roughly 9 x 11.5 cm. Aged, but in fair condition. 'Mr Bosworth Smith' has informed her that her book 'Poets the Interpreters of Their Age' (1892) 'will be acceptable to the pupils of Harrow School', and she has 'great pleasure in presenting a copy to your library, & hoping that a kind welcome will be accorded to my little offering'. A postscript explains that the volume 'will be forwarded by an early post'.
Phone enquries
RICHARD M. FORD
Tel: +44 20 8993 1235