[The Writings of Leo Tolstoy. Edited by V. Tchertkoff. No. 2.] The Spirit of Christ's Teaching.
Author:
Leo Tolstoy [V. Tchertkoff (Vladimir Grigorevich Chertkov), 1854-1936]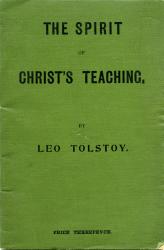 Publication details:
Purleigh, Essex: Free Speech Publishing House. 1899.
SKU: 8033
12mo: [iv] + 35 pp. In original green cloth printed wraps. Text clear and complete. On aged high-acidity paper, and with four staple holes throughout. Creasing to front wrap and slight loss at head of title (not affecting text). In the 'Editor's Preface' (p.iii, dated 'V. TCHERTKOFF. | Purleigh, Essex, | July, 1899.') Tchertkoff (Chertkov) explains that this is the first separate printing in English: 'The narrative as here reproduced first appeared in English in 1885 as a section of a book entitled "Christ's Christianity," and has latterly been published as a part of "The Gospel in Brief." | It has now been thought desirable to offer it to the British public in the form of a separate booklet in order to make it accessible to the greatest number of readers.' Scarce: no copy of this item at the British Library, and the only copy on COPAC at Oxford.
Phone enquries
RICHARD M. FORD
Tel: +44 20 8993 1235