Janus, Lake Sonnets, etc. and other Poems.
Author:
David Holt [William Pickering, London bookseller; the Aldine Press; Charles Whittingham, printer; the Chiswick Press]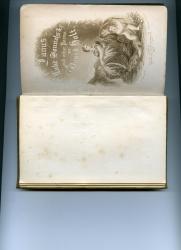 Publication details:
London: William Pickering, Piccadilly. George Bell, Fleet Street. 1853. ['C. Whittingham, Tooks Court, Chancery Lane.']
SKU: 7629
12mo: viii + 207 pp. Advertisement and printer's slug on reverse of last leaf. Additional sepia engraved title ('T. Letherbrow. Del. W. Morton. Sc. Manchr.') with illustration depicting a stern-looking woman (one of the fates?) holding a bobbin of thread. By her side a cherub with a lyre and a large, incongruous metal cog. In original blind-stamped green cloth binding. A tight copy, lightly foxed and aged, in faded binding with slight wear and a small stain to the front board. Ownership stamp of Florence Armaghdale on front free endpaper. Last two leaves opened clumsily. Scarce. Not in Keynes. The only copies on COPAC are at five of the six deposit library (Trinity College, Dublin, lacking the item).
Phone enquries
RICHARD M. FORD
Tel: +44 20 8993 1235