Coloured lithographic dioramic print, captioned 'Spooner's Protean Views, No. 8. St. George's Chapel Windsor Castle. In which the scene changes to the splendid ceremony of the interment of King William the Fourth'.
Author:
William Spooner, printseller, 377 Strand [diorama; dioramic print; King William IV; St George's Chapel, Windsor]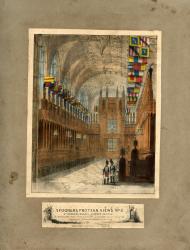 Publication details:
Undated [circa 1837]. 'London W. Spooner 377 Strand'.
SKU: 7481
Dimensions of print roughly 17.5 x 13.5 cm. On original grey paper windowpane mount (28 x 23 cm). Engraved label (2.5 x 11 cm) beneath the print, with a couple of remarque-style illustrations. The print itself is good, although a little aged and spotted; the margins and mount being rather more heavily affected. Attractive and unusual item, the image changing when held up to the light. Two soldiers are shown dwarfed by the high ceiling of the chapel, which is decked with brightly-coloured flags. When held to the light the chapel is filled with the mourning congregation. Scarce. There is no reference to this particular Spooner print on the net. The dioramic print was introduced to England in 1821 by the French photographer Joseph Daguerre. Spooner published at least thirty-seven of his 'Protean Views'.
Phone enquries
RICHARD M. FORD
Tel: +44 20 8993 1235