Coloured lithographic dioramic print, captioned 'Dawson's Diorama No. 4. The British Queen, a first rate Steem [sic] Ship, which on holding it up to the light changes to her Magesty [sic] Queen Victoria, attired in her Robes of State.'
Author:
T. Dawson, London printseller [Queen Victoria; SS British Queen; diorama; dioramic print; optical illusion; naval and maritime]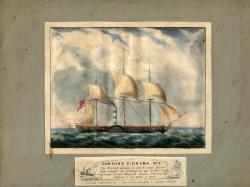 Publication details:
Undated, but between 1839 and 1844. 'London: Published by T. Dawson, 29, Bedeord [sic, for 'Bedford'] St. Covent Garden.'
SKU: 7473
Dimensions of print roughly 13 x 17.5 cm. On original grey paper windowpane mount (22 x 28.5 cm). Engraved label (3 x 12.5 cm) beneath the print, with small remarque-style illustrations of the ship and the queen. The print itself is good, although aged and a little worn and spotted; the spotting and aging to the margins and mount is a little heavier. Attractive and unusual item, the image changing when held up to the light. The ship is depicted sailing on choppy seas, and the young queen seated with drapery around her on a verandah with stone balustrades and a landscape behind. Scarce. The only reference to this item on the net is to a copy in the National Maritime Museum. The British Queen was the first ocean steamship ever built. She made her maiden voyage in 1839. In 1841 she was sold to the Belgian government, and in 1844 she was broken up. Dioramic prints were introduced in London in 1821 by Joseph Daguerre.
Phone enquries
RICHARD M. FORD
Tel: +44 20 8993 1235