Two Autograph Letters Signed (both 'Rodney Bennett') from the librettist Harry Rodney Bennett to Leslie Arthur Boosey of the music publishers Boosey & Hawkes, including a discussion of royalties
Author:
Harry Rodney Bennett (1890-1948), librettist and author, father of composer Sir Richard Rodney Bennett (b.1936) [Leslie Arthur Boosey (1887-1979), president of the music publishers Boosey & Hawkes]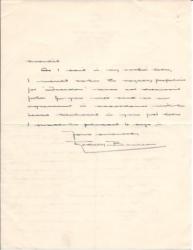 Publication details:
Letter One: 20 Woodstock Road, Bedford Park, Chiswick; 1 May 1926. Letter Two: The George Hotel, South Molton, North Devonshire; 22 September 1941.
SKU: 11173
Letter One: 2 pp, 12mo. 23 lines. Good. Docketed '3.5.26 | copd.' He thanks him for his letters, and has 'sent the verses to Sanderson'. The copies of the 'Quilter publications' that Bennett needed for the writing of an article in the 'Music Teacher' have not arrived. Asks for information on a 'volume of songs by Sibelius'. 'If they are available could they be included in the Quilter parcel'. He is 'writing about Sibelius for publication in July, & want to be as complete as possible'. Letter Two: 2 pp, 4to. 23 lines. Good, with staple holes to one corner. The 'question of rights as between author & composer [...] seems a problem without solution. One thing seems certain - that though indifferent music can ruin good words, not even the best words can save indifferent music. Which is an annoying state of things for authors.' He considers it 'an excellent thing' that 'relative rights for broadcasting & gramophone are fixed. So much discussion is avoided.' He had rather 'the royalty proportions for "Freedom" were not discussed further', and will sign the agreement Boosey is sending him. Born in Farnham, Harry Rodney Bennett was a children's author, a writer of educational textbooks, and the librettist of Quilter's 1936 light opera Julia (Love at the Inn).
Phone enquries
RICHARD M. FORD
Tel: +44 20 8993 1235