[Printed pamphlet.] Explication des Tableaux, Statues, Bustes, etc. composant les Galerie [sic] du Palais de la Chambre des Pairs de France.
Author:
[Pierre Didot, l'ainé, printer; Musée national du Luxembourg, France ]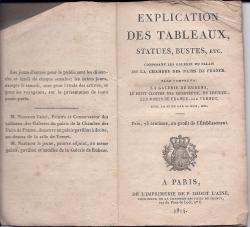 Publication details:
A Paris, de l'Imprimerie de P. Didot l'Ainé, Imprimeur de la Chambre des Pairs de France, rue du Pont de Lodi, no 6. 1814.
SKU: 10845
12mo, 72 pp. Stitched. In remains of original grey wraps, with front wrap present (though worn at extremities), but only a trace of rear wrap remaining. Text clear and complete. On aged paper with many dog-eared corners. An ephemeral item by one of the greatest of French printers: COPAC only lists three copies, at Oxford, University College London, and the Victoria and Albert Museum. None of these record the misprint in the title of 'les Galerie' for 'les Galeries', and it is not present in the Harvard copy either.
Phone enquries
RICHARD M. FORD
Tel: +44 20 8993 1235