Autograph Letter Signed from Evangeline Florence to an unnamed male impressario.
Author:
Evangeline Florence (1873-1928), American-born British soprano, remembered for her work at the Crystal Palace, London Ballad Concerts, and Royal Choral Society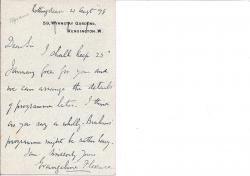 Publication details:
21 August 1898; on letterhead of 59 Wynnstay Gardens, Kensington, altered in autograph to 'Rottingdean'.
SKU: 10805
12mo, 1 p. Six lines. Text clear and complete. Good, on lightly-aged paper. She will 'keep January free' for him, and they can 'arrange the details of programme later'. She agrees that 'a wholly-Brahms programme might be rather heavy'. See Florence's obituary, The Times, 7 November 1928.
Phone enquries
RICHARD M. FORD
Tel: +44 20 8993 1235