Twelve original Victorian views of Edinburgh, steel-engravings for T. and W. McDowall by T. G. Flowers, G. Grierson, and John Johnstone. With one engraving of Loch Ness, engraved by John Gellatly from J. Ferguson for J. Menzies.
Author:
[T. G. Flowers; John Gellatly (1803-1856); G. Grierson, John Johnstone, engravers; T. and W. McDowall and John Menzies, publishers; Victorian views of Edinburgh; Scotland; Scottish engraving]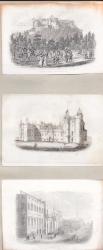 Publication details:
Edinburgh: T. and W. McDowall, 14 North Bridge; and J. Menzies, 61 Princes Street. [1840s?]
SKU: 10411
The twelve McDowall engravings each on separate cards of shiny art paper, each 90 x 130 cm, and all but the card with the image of the Scott Memorial (see below) in landscape. The Menzies engraving of Loch Ness, in similar style to the others on shiny art paper, but slightly larger, at 90 x 140 cm and landscape. Delicate items, in fair condition, with browning to edges, but images clear and complete. The engravings on the McDowall cards are as follows. By T. G. Flowers: Heriot's Hospital (founded 1628); and 'Assembly Hall, Heriots Hospital and Castle'. By G. Grierson: Calton Hill; Dean Bridge. John Johnstone: St John's Episcopal Chapel; Sir Walter Scott's Monument (founded 1840) [from design by C. M. Kemp] and 'Burns' Monument & Arthur's Seat' [from design by T. McDowall]. Unattributed: 'Edinburgh from the Calton Hill' and 'Register Office, Waterloo Place, National & Nelson's Monuments, & Theatre-Royal', 'St Giles Cathedral and Parliament Square', 'Edinburgh Castle from Princes Street'; Holyrood Palace; University and South Bridge; Royal Institution. Scarce: COPAC lists another item in the McDowall series at the Wellcome, undated.
Phone enquries
RICHARD M. FORD
Tel: +44 20 8993 1235