[Printed.] Rapport Général fait a Mr. le Maire de Gand, Chambellan de sa Masjesté, par les Commissaires chargés des secours extraordinaires, accordés aux Indigens de cette Ville, depuis le commencement du mois de Decembre 1816 jusqu'au 2 Août 1817.
Author:
C. Dellafaille; P. J. De Smedt, Commissaires de la Ville de Gand [Ghent]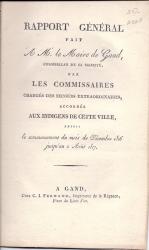 Publication details:
A Gand, Chez C. J. Fernand, Imprimeur de la Régence, Place du Lion d'or. [1817.]
SKU: 10111
8vo, 15 pp. Disbound. Text clear and complete. Good, on lightly-aged paper. The opening paragraph makes clear the theme: 'Les pluies continuelles venaient d'enlever au cultivateur ses plus chères espérances; la récolte avait entièrement manquée, et ce désastre était commun à presque toute l'Europe: dèslors il fut facile de prévoir les malheurs qui affligeraient le continent et particulièrement la classe pauvre et sans travail jusqu'à la récolte prochaine.' Scarce.
Phone enquries
RICHARD M. FORD
Tel: +44 20 8993 1235