Typed Letter Signed ('G. N. S. Hunt') to Mrs Steward of Beckenham, Kent.
Author:
G. N. S. Hunt [Geoffrey Hunt] [Oxford University Press; Geoffrey Cumberlege; Amen Corner; Christ Church, Newgate Street]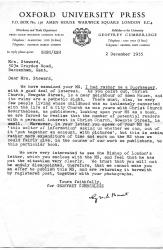 Publication details:
2 December 1955; on Oxford University Press letterhead (Amen House, London).
SKU: 7792
4to: 1 page. Twenty-one lines of text. Good, on creased and lightly-aged paper. An impressively-considered letter, declining Mrs Steward's manuscript 'I had rather be a Doorkeeper'. 'As you point out, Christ Church, Newgate Street, is a near neighbour of Amen House, and its ruins are a pathetic sight. There must, also, be very few people living whose childhood was so intimately connected with the life of a City Church as yours with Christ Church.' Unfortunately the number of 'potential readers' is 'small', and the amount of editing required 'is asking rather more expenditure in time and work on the MS than we could fairly give, in the course of our work as publishers, to this particular book'. Hunt feels that 'the Bishop of London's letter [...] has put the situation very clearly'. There is no record that Mrs Steward's book saw publication. In addition to his work at the OUP, Hunt was one of the leading figures in the publication of the widely-loathed New English Bible, about which he produced a book in 1970.
Phone enquries
RICHARD M. FORD
Tel: +44 20 8993 1235