Autograph Note in the third person to William Henry Kearsley Wright (1844-1915), Plymouth Borough Librarian, naval historian and antiquary.
Author:
John George Edward Henry Douglas Sutherland Campbell, Marquis of Lorne [Marquess of Lorne] and Duke of Argyll (1845-1914), Governor-General of Canada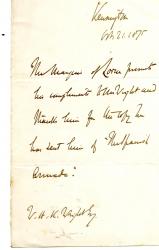 Publication details:
21 October 1875. Kensington [i.e. Kensington Palace].
SKU: 7666
12mo: 1 p. Very good on lightly-aged paper. Reads: 'The Marquis of Lorne presents his compliments to Mr Wright and thanks him for the copy he has sent him of "The Spanish Armada." Wright's 'The Spanish Armada: a descriptive historical poem' was published in Plymouth by G. P. Friend in 1874.
Phone enquries
RICHARD M. FORD
Tel: +44 20 8993 1235