Autograph Letter Signed to Wheatley.
Author:
Edwin Norris (1795-1872), linguist and Assyriologist [Henry Benjamin Wheatley (1838-1917), bibliographer, editor and London topographer; Frederick James Furnivall]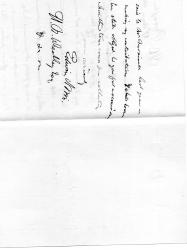 Publication details:
17 August 1865. Brompton.
SKU: 7639
12mo, 2 pp. Thirteen lines of text. Good. The letter possibly relates to Furnivall's Early English Text Society, founded in 1865. He is enclosing a Post Office Order for a guinea, but, as he 'said to Mr Furnivall last year', he does not consider himself a subscriber, 'wishing to reserve the right of withdrawal in case of finding it inconvenient to pay, which will certainly be the case when I give up my official position'. Nevertheless asks Wheatley to remind him 'when the time comes for collection'.
Phone enquries
RICHARD M. FORD
Tel: +44 20 8993 1235