Cnuasachd bheag amhrán. Le haghaidh aos óg na Gaedhilge d'foghluim ins na sgoileannaibh. An t'Athair Pádraig Breathnach do chruinnigh. [Cuid a tri.]
Author:
Pádraig Breathnach [Father Patrick Walsh (c.1885-1927), Irish cleric, republican and folklorist]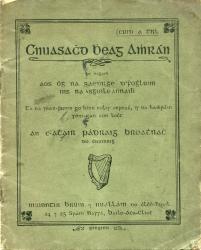 Publication details:
Dublin: Muinntir Bhrúin & Nualláin do chlódh-bhuail. [circa 1920?]
SKU: 7604
16mo (15 x 12 cm), 32 pp. Stapled pamphlet, in original green printed wraps. Text complete and clear, on aged and dogeared paper. Wraps worn and stained. Part three only of an annotated collection of ballads. Six-page English glossary at rear. Scarce: the National Library of Ireland only appears to have Part Five, and the only record on COPAC is of Parts One and Three at Trinity College, Dublin.
Phone enquries
RICHARD M. FORD
Tel: +44 20 8993 1235