Coloured lithographic dioramic print, captioned 'Dawson's Diorama No. 1. The Emperor Napoleon in Captivity at Elba, changing to his reception by the Army whom he walked up to with these words "If there be among you a Soldier [...] Here I am!'
Author:
T. Dawson, London printseller [Napoleon Bonaparte; diorama; dioramic print]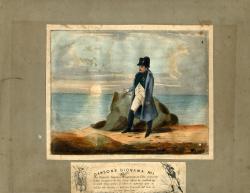 Publication details:
Undated [circa 1838]. 'London: Published by T. Dawson, 29, Bedford St. Covent Garden.'
SKU: 7474
The caption ends '[...] a Soldier who desires to kill his General let him do it now. Here I am!' Dimensions of print roughly 13 x 17 cm. On original grey paper windowpane mount (22 x 27.5 cm). Engraved label (4 x 12.5 cm) beneath the print, with small remarque-style illustrations. Aged and spotted, with slight wear to the print. An unusual and attractive piece of Napoleonic iconography, a full-length image of the deposed Emperor of the French, characteristically attired, on a beach with his hand on a rock, looking out to a sunset at sea. When held up to the light the Emperor is surrounded by a large group of enthusiastic soldiers, one of whom is waving a tricolor. Scarce. No reference to this item on the web. The dioramic print was introduced to England in 1821 by the French photographer Joseph Daguerre.
Phone enquries
RICHARD M. FORD
Tel: +44 20 8993 1235