Printed poster, headed 'Salt-Hill Society, (Instituted 1783) For the Protection of Persons and Property from Felons & Thieves, Within the Hundreds of Burnham and Stoke, In the County of Buckingham.', giving the 'Rules and Articles of this Society'.
Author:
Edmund J. Craske, Treasurer, Salt-Hill Society, Burnham and Stoke, Buckingham [R. Ingalton Drake, printer, Eton; provincial printing]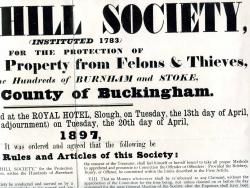 Publication details:
At a General Meeting, held at the ROYAL HOTEL, Slough, on Tuesday, the 13th day of April, and (by adjournment) on Tuesday, the 20th day of April, 1897'. ['R. INGALTON DRAKE, PRINTER, ETON.']
SKU: 7428
Printed on one side of a piece of paper roughly 680 x 430 mm. Good, on aged paper with a little spotting and one short closed tear. Text complete and entirely legible. Heading printed in a variety of types and point sizes, with the Rules and Articles, dated 'Slough, April 20th, 1897. and 'Signed on behalf of the General Body of Subscribers, EDMUND J. CRASKE.', in double-column beneath. Final list of subscribers, in four columns, beginning with 'ABORN, Edwin, Eton' and ending with 'WOLLASTON, H. U., East Burnham'.
Phone enquries
RICHARD M. FORD
Tel: +44 20 8993 1235