An Buaiceas. 1. ceithre sgéalta rug craobh an Oireachtais leó 'sa bhliadhain 1898. [Sgéalta nua-dhéanta. - IV.]
Author:
Pádraig Ó Séaghdha (pseudonym 'Conán Maol') (1855-1928), Irish writer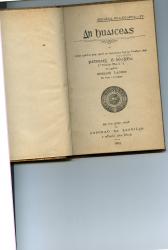 Publication details:
I mBaile Átha Cliath: Ar n-a gcur amach do Chonnradh na Gaedhilge, 1903.
SKU: 7392
12mo: 97 pp. A good, tight copy, on aged paper, in contemporary calf binding gilt. All edges gilt, marble endpapers, dentelles. Binding rubbed and worn. Apparently complete (and certainly complete as bound), containing all four stories listed in the National Library of Ireland entry, but having 97 rather than the 167 pp in that entry. A landmark work in Irish literature, highly regarded as a pioneering attempt to modernize Gaelic narrative.
Phone enquries
RICHARD M. FORD
Tel: +44 20 8993 1235