Autograph Letter, in the third person from 'Mr. Dunlop' [the Scottish temperance campaigner John Dunlop] to 'Mrs. Ellis' [Sarah Stickney Ellis], regarding 'Compulsory Drinking Usages'.
Author:
John Dunlop (1789-1868) of Gairbald, temperance campaigner, 'The Father of Temperance Societies in Scotland' [Sarah Stickney Ellis (1799-1872); The Glasgow and West of Scotland Temperance Society]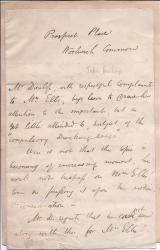 Publication details:
21 November 1842; Prospect Place, Woolwich Common.
SKU: 11057
12mo, 2 pp. 23 lines. Text clear and complete. On first leaf of a bifolium, with the second leaf laid down on rectangle of paper cut from album. Fair, on lightly-aged paper. Drawing her attentiont to 'the important, but as yet little attended to, subject of the compulsory drinking usages', a 'topic [...] of increasing moment'. His 'largest work' on the subject is 'at present out of print, & the reserved copies all exhausted', so he is sending 'a small tract extracted from it', together with 'another Vol. on Association, as well as a small work of his esteemed friend Mrs Balfour [Clara Lucas Balfour (1808-1878)]'. For information on Dunlop and Ellis, see their entries in the Oxford DNB, according to which, 'in 1829 Dunlop inaugurated pioneering Scottish societies in Greenock and Maryhill, a developing community near Gairbraid. [...] His energy attracted influential supporters, notably the self-made Glasgow publisher William Collins senior. In 1829 the two men established the Glasgow and West of Scotland Temperance Society, which was soon renamed the Scottish Temperance Society to reflect its expanding sphere of operations.'
Phone enquries
RICHARD M. FORD
Tel: +44 20 8993 1235