[Printed illustrated handbill advertisement] A Graunde Fantesie Fayre schal be holden in a Marketynge Plaice in Ye Halles of Assemblie, or Jarratt Streete Roomes, situate in ye pleasaunte toune of Kyngeston-upon-Hull.
Author:
[Christopher Sykes; Kingston-upon-Hull; M. C. Peck and Son; George Falkner and Sons, Manchester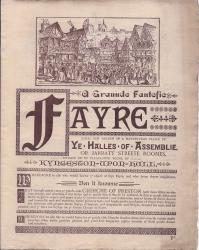 Publication details:
1881. 'Imprynted for Maister M. C. Peck and hys Sonne, in ye Market Gate, Number 10, in ye antiente toune of Kyngeston-upon-Hull, by Maister George Falkner and hys Sonnes, of Manchester.'
SKU: 9773
4to, 4 pp. Bifolium. Printed in brown on watermarked laid paper. Fair, on aged paper. An exercise in Wardour Street English, foreshadowing in some respects the Leadenhall Press with its mish-mash of fonts and point sizes, and its antiquated decorative rules. The fair will be opened by 'Maister Christophere Sykes, Member of Parlymente for ye East Ryding of ye Countie of Yorkshire'. Names of the great and good expected to attend. Vignettes of a tudor fair, three medieval women, two jousting knights, a posy, chairmen, two men in eighteenth-century garb, a dinner table. No copy in the British Library or on COPAC, although the latter does have a single entry (at Leeds) for a similar item, printed in the following year also by Falkner, advertising a 'fayre' in 'ye Alberte Halle, situate in ye merrie (and smokie) toune of Shefeld'.
Phone enquries
RICHARD M. FORD
Tel: +44 7884 315 545