Excellent signed pen and ink caricature of himself by the English music hall comedian Sir George Robey [George Edward Wade].
Author:
Sir George Robey [George Edward Wade] (1869-1954), English music hall comedian, 'The Prime Minister of Mirth'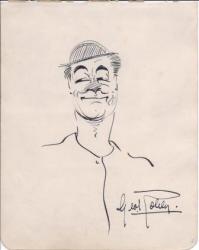 SKU: 11093
On one side of page removed from autograph album, roughly 14 x 18 cm. Very good, on lightly-aged paper. An accomplished head-and-shoulders self-caricature, with Robey directly facing the viewer, his eyes to his right, a smile on his face, a red nose, the customary tiny hat perched on his head with tufts of hair sticking out over the ears, long neck and collarless shirt. Good, firm signature in bottom left-hand corner: 'Geo. Robey.' Also included is a newspaper cutting of a photograph of Robey. The National Portrait Gallery owns five of Robey's self-caricatures.
Keywords:
Phone enquries
RICHARD M. FORD
Tel: +44 7884 315 545