Autograph Letter Signed from the Pennsylvania politician Joel Barlow Sutherland to the soldier and playwright James Nelson Barker.
Author:
Joel Barlow Sutherland (1792-1861), Jacksonian member of the U.S. House of Representatives from Pennsylvania [James Nelson Barker (1784-1858), soldier, playwright and politician]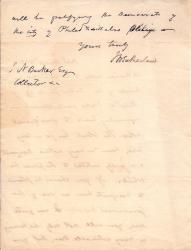 Publication details:
16 April 1833; Philadelphia.
SKU: 9937
4to, 2 pp. Fourteen lines. Text clear and complete. Fair, on aged paper neatly repaired with archival tape. Addressed to Barker as 'Collector &c'. Recommending the appointment of 'Colonel Freeman' as 'an Inspector of the Customs for the City of Philadelphia'. Freeman is 'a very active Democrat' and 'a very estimable man'. Should Barker appoint him, he will be 'gratifying the Democrats of the City of Philadelphia & will also oblige - | Yours truly | [signed] J B Sutherland'. In 1844 Sutherland himself received a similar letter from Edgar Allan Poe, recommending Robert Travers.
Phone enquries
RICHARD M. FORD
Tel: +44 20 8993 1235