One Autograph Letter Signed and Two Typed Letters Signed (all 'Randall Cantuar:') to [William George Arthur] Ormsby-Gore.
Author:
Randall Davidson [Randall Thomas Davidson] (1848-1930), Archbishop of Canterbury, 1903-1928, then 1st Baron Davidson of Lambeth [William George Arthur Ormsby-Gore (1885-1964), 4th Baron Harlech]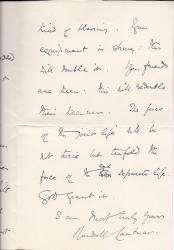 Publication details:
9 January and 28 April 1913, and 9 May 1914. The first on letterhead of the Old Palace, Canterbury, the other two on letterheads of Lambeth Palace, S.E.
SKU: 9896
All three items in good condition, with texts clear and complete, on lightly-aged paper. Letter One: 9 January 1913. Typed. 8vo, 3 pp. Bifolium. Twenty-eight lines. Sending florid congratulations on Ormsby-Gore's forthcoming marriage, and describing him as 'one who is bearing burdens bravely & buoyantly in the public service, & striving honestly to do his duty to God & man'. His bride-to-be, Beatrice Edith Mildred Gascoyne-Cecil, is described as 'a maiden like-minded'. Letter Two: 28 April 1913. Typed. 4to, 1 p. Fifteen lines typed and a short autograph postscript. Suggesting a 'small private conference' to 'avert the present peril' in 'the Welsh Church'. Letter Three: 9 May 1914. Typed. Landscape 8vo, 1 p. Half typed, half autograph. Begins 'There is no tougher problem than the problem of defining a layman, and I am certainly not equal to the task.'
Phone enquries
RICHARD M. FORD
Tel: +44 20 8993 1235