Typed Letter Signed by Nicolas Bentley to the actor C. Kenneth Benda, concerning the rights to his book 'Trent's Last Case', and a proposal by Benda for a stage adaptation.
Author:
Nicolas Bentley [Nicolas Clerihew Bentley (1907-1978)], British author and illustrator [C. Kenneth Benda (1902-1978), British actor]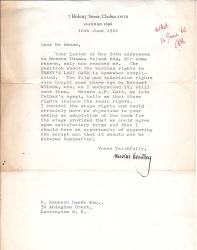 Publication details:
10 June 1966; on Bentley's letterhead, 7 Hobury Street, Chelsea.
SKU: 9572
4to, 1 p. 19 lines. Text clear and complete. On aged and lightly creased paper, with strip of sunning to left-hand margin. Neat signature: 'Nicolas Bentley'. The film and television rights to the book were all 'bought some years ago by Herbert Wilcox, who, as I understand it, still owns them'. Bentley has reports the opinion of 'Messrs A. P. Watt, my late father's agent', on the question of the radio rights. 'I control the stage rights', Bentley states, giving the conditions on which he would agree to a stage adaptation.
Phone enquries
RICHARD M. FORD
Tel: +44 20 8993 1235