Autograph Note Signed "H Rider Haggard", novelist, with envelope addressed by Haggard and initialled "HRH", to S[tephen].J. Aldrich, book history scholar.
Author:
H. Rider Haggard, novelist [Henry Rider Haggard].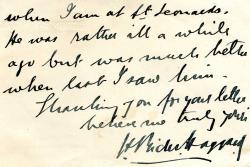 Publication details:
[Printed heading] Ditchingham House, Norfolk, 10 July 1923.
SKU: 9387
Note written on two sides of a card of postcard size, good condition, initialled and addressed envelope chipped and grubby. Text: "No, it is purely a coincidence about the names in Love Eternal [underlined; a fantasy/historical novel published in 1918]. I know Major C. Danen[end indecipherable] very well - often see him when I am at St Leonards. He was rather ill a while ago but was much better when I saw him. . . ."
Keywords:
Phone enquries
RICHARD M. FORD
Tel: +44 20 8993 1235