Autograph Signature ('W E Gladstone') on frank, addressed to Guillemard at 11 Downing Street.
Author:
William Ewart Gladstone (1809-1898), British Liberal Prime Minister [Sir Laurence Nunns Guillemard (1862-1951)]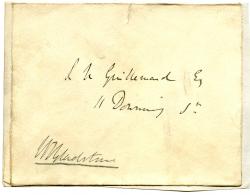 SKU: 8728
The front cover of the envelope, 9.5 x 12 cm, cut away and laid down on a ruled piece of paper cut from an autograph album. A little grubby, but good. Reads 'L N Guillemard Esq | 11 Downing St. | [signed] W E Gladstone'. Signature approximately 4.5 cm long, and underlined.
Phone enquries
RICHARD M. FORD
Tel: +44 20 8993 1235