Autograph Letter Signed (twice, both 'Negri Cristoforo' ), with short poem, to an unnamed woman.
Author:
Cristoforo Negri (1809-1896), Italian politician and first President (1867-1872) of the Italian Geographical Society [Jeremiah James Colman (1830-1898), Norwich mustard manufacturer]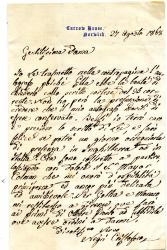 Publication details:
27 August 1868; on letterhead of Carrow House, Norwich.
SKU: 8673
12mo, 2 pp. Bifolium. Fair, on aged paper with a little light staining. The recto carries the seventeen-line letter to a 'Gentilissima Dama', in response to a request for an autograph. On the reverse of the second leaf is a four-line poem, signed and dated by Negri, beginning 'Come un Nume che si adora'. In the letter Negri writes that he does not have 'la presunzione di credere che il mio autografo meriti di essere conservato'. In England for a geological conference, Negri was the guest of Colman at Carrow House, and he writes that when he is 'costretto a partire, lasciando con dolore il Sr. Mayor Colman, che mi onoro d'ospitalita principesca, ed ancor piu delicata ed amichevole'. He is visiting Gotha and Monaco before returning to Florence.
Phone enquries
RICHARD M. FORD
Tel: +44 20 8993 1235