Detailed coloured hand-drawn plan of a broad gauge locomotive, with dimensions, on large piece of cloth headed 'F.C.G.O.A.', and text in Spanish and English, designed by the Stephenson Locomotive Works for the Argentine Great Western Railway Company.
Author:
Robert Stephenson & Co. Ltd., Locomotive Works, Darlington [railway engines; F.C.G.O.A.; Ferro Carril Gran Oeste Argentino; the Argentine Great Western Railway Company]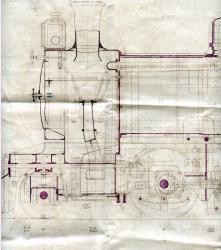 Publication details:
Stamped 'ROBERT STEPHENSON & CO. LTD. | LOCOMOTIVE WORKS | 29 APR. 1907| DARLINGTON'.
SKU: 7853
An attractive item, on one side of a piece of cloth roughly 57 x 94 cm. Good: lightly aged and creased. Side section of the engine roughly 21 x 61 cm, with dimensions in grey, outlines and other lines in purple, one block in pink and red, and a few small parts in blue. Also a cross-section from the front, of the left side of the train only, roughly 22 x 9.5 cm. Beneath the heading 'F.C.G.O.A. are six lines of neatly-written text, the first reading 'Trocha de. 1676<?> Gauge. 5'-6''.' and the last 'Capacidad del deposito de carbon 3-1715 Cubic Metres Fuel Space 112 Cub: feet.' The Argentine Great Western Railway was a British-owned company which operated a broad gauge (5ft 6in) railway network in Argentina, where it was known as the Ferrocarril Gran Oeste Argentino (FCGOA).
Phone enquries
RICHARD M. FORD
Tel: +44 20 8993 1235