The autographs of the four members of the Gresham Singers.
Author:
The Gresham Singers; Hatherley Clarke; Charles Flinn; Greeves Johnson; Leonard Salisbury; Arnold Stoker [English musicians' autographs]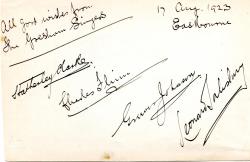 Publication details:
17 August 1923; Eastbourne.
SKU: 7501
On a leaf (roughly 11 x 17 cm) removed from an autograph album. Good, on lightly spotted paper. Reads 'All good wishes from The Gresham Singers | 17 Aug. 1923 | Eastbourne | Hatherley Clarke | Charles Flinn | Greeves Johnson | Leonard Salisbury'. Signature of 'Arnold Stoker | 7/3/1919' on reverse. Stoker was winner of the Guildhall Gold Medal in 1919.
Phone enquries
RICHARD M. FORD
Tel: +44 20 8993 1235