Allegorical coloured engraved portrait of 'Buonaparte', with explanation, 'Drawn & Etched by W Heath'.
Author:
William Heath ('Paul Pry'); Rudolph Ackermann, publisher, 'The Repository of the Arts', Strand [Napoleon Bonaparte; Battle of Leipzig, 1814]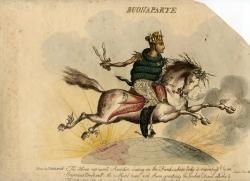 Publication details:
London Pub March 6th 1814 by Ackermann Strand'.
SKU: 7442
BM 12195. Landscape. On a piece of wove paper. Originally a rectangle roughly 240 x 340 mm, but with an arc cut away beginning in the top left-hand corner and ending at bottom right. This loss has no effect on the text, and only the merest effect on the image, only trimming the outer edge of some very lightly-painted clouds. Apart from this good, on lightly spotted paper, with a thin strip from blue paper mount adhering to the blank reverse. Depicts a ghoulish Bonaparte, with a snake wrapped round his body, a sword of power in his withered hand, and a murderous crown, riding a winged horse of death across the globe. The title 'BUONAPARTE' is at the head, and the publication details and caption at the foot. Caption reads 'The Horse represents Ambition leading on the Fiend, whose body is encompassd. by an Enormous Serpent, the wither'd hand and Arm grasping the broken Sword alludes to The Feeble effort made by Buonaparte to oppose the Conquering arms of the Allies. A Crown Encircles his brows formd of Daggers and Poison Cups alludes to murdering his own Soldiers The Thighs are formd of the Skeletons of the Massacred hosts, the boot a Deamon his guardian Genius'. A companion piece to the Ackermann/Heath engraving 'BERNADOTTE', BM 13489 (offered separately), and to another portrait, of Alexander I of Russia (not in the British Museum).
Phone enquries
RICHARD M. FORD
Tel: +44 20 8993 1235