Autograph Letter Signed by the Society's secretary W. E. Page to Messrs Coutts & Co, Bankers.
Author:
THE LONDON FEMALE GUARDIAN SOCIETY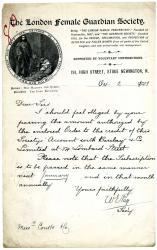 Publication details:
2 October 1901, on printed letterhead of the Society, 191, High Street, Stoke Newington, N.
SKU: 2791
The society's letterhead has a circular engraving, 1 1/2 inches in diameter, of Jesus and a fallen woman, surrounded by the quotation ':JESUS SAID UNTO HER, NEITHER DO I CONDEMN THEE: GO, AND SIN NO MORE.' It describes the Society as 'Being "THE LONDON FEMALE PENITENTIARY," founded at Pentonville, 1807, and "THE GUARDIAN SOCIETY," founded 1812, for the RESCUE, RECLAMATION, and PROTECTION of BETRAYED and FALLEN WOMEN from all parts of the United Kingdom, and now united under one management." 1 page, 8vo. Grubby, with staple marks and a closed tear affecting two words of text. Asks the bank to credit the Society's account with Barclay & Co Ltd, 54 Lombard St, to the value of the enclosed order (not present). 'Please note that the Subscription is to be passed in the same manner next January, and in that month annually'.
Phone enquries
RICHARD M. FORD
Tel: +44 20 8993 1235