Autograph Letter Signed by '<N. W. Lindley?>' of 35 Bedford Row, London, to unnamed male correspondent, concerning arrangements for a theatrical company mentioning John Oxenford, Helen Maltravers and Miss Aylmer.
Author:
[Helen Maltravers, actress ; John Oxenford (1812-1877), English dramatist; the Princess's Company; the English stage; Victorian theatre; theatrical]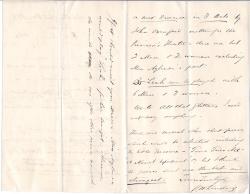 Publication details:
20 June 1864; 35 Bedford Row, W.C., London.
SKU: 10405
12mo, 3 pp. 30 lines. Text clear and complete. Fair, on aged and creased paper. He sends a 'list of pieces' which he considers 'suitable for a Short Company'. The first piece named is 'The Silver Lining (the St James's Comedy)', in which he says there are 'only 4 Men & 3 women exclusive of Helen Maltravers'. Other plays are named with the numbers required, including 'A New Drama in 3 Acts by John Oxenford written for the Princess's Theatre - there are but 2 Men & 2 women excluding Miss Aylmer's part.' Postscript reads 'If it should meet your Views Miss Aylmer would play "Leah" for her benefit - otherwise she would do one of the other pieces named'. The identity of the author is difficult to establish, the address in Bedford Row being occupied by solicitors' offices.
Phone enquries
RICHARD M. FORD
Tel: +44 20 8993 1235