[Printed handbill.] The Humble Address of the House of Commons to the Queen. [Numb. 3.] [Regarding the victory of the Duke of Marlborough at Ramillies.]
Author:
John Smith, Speaker, House of Commons [Queen Anne; Jacob Tonson; Timothy Goodwin; the Duke of Marlborough; the Battle of Ramillies, 1706]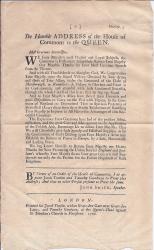 Publication details:
London: Printed for Jacob Tonson, within Grays-Inn Gate next Grays-Inn Lane; and Timothy Goodwin, at the Queen's-Head against St. Dunstan's Church in Fleetstreet. 1706.
SKU: 10356
8vo, 1 p. Text clear and complete. Blank reverse. Fair, on aged paper. Paginated 9, with 'Numb. 3.' in the top right-hand corner. Returning thanks for the 'speech from the throne', and for Marlborough's victory at Ramillies, 'A Victory so Glorious and Great in its Consequences, and attended with such Continued Successses, through the whole Course of this Year, that no Age can Equal.' Tonson's and Goodwin's appointment, by Smith, is signed in type.
Phone enquries
RICHARD M. FORD
Tel: +44 20 8993 1235