Autograph Letter Signed ('EVL') from E. V. Lucas to 'My dear <Reed?>', concerning his 'Shakespeare drawings'.
Author:
E. V. Lucas [Edward Verrall Lucas] (1868-1938), author, authority on Charles Lamb, and chairman of the publishers Methuen & Co.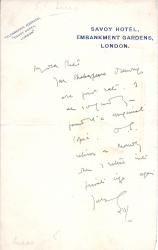 Publication details:
Undated. On letterhead of the Savoy Hotel, London.
SKU: 10112
12mo, 1 p. Text clear and complete. Fair, on lightly-aged paper. Lucas's handwriting is not straightforward, and the recipient's name is unclear. His 'Shakespeare drawings' are 'first rate'. Lucas retires 'into private life again' on the Monday, when 'O. S.' returns.
Phone enquries
RICHARD M. FORD
Tel: +44 20 8993 1235