Prospectus for Keynes's 'William Pickering, Publisher. A Memoir & a Hand-list of his Editions.'
Author:
Geoffrey Keynes; The Fleuron [William Pickering; The Chiswick Press]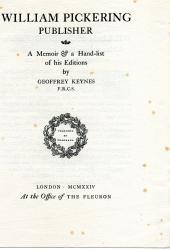 Publication details:
1924. 'London . MCMXXIV | At the office of THE FLEURON'. ['London: Chiswick Press.']
SKU: 7599
Quarto (25.5 x 19 cm) bifolium. Attractively-printed on watermarked laid paper. Unbound. Foxed and lightly-creased. Two short 0.5 cm buff strips of cloth from mount neatly adhering to the margin of the reverse of the second leaf. 'PERENNIS ET FRAGRANS.' enclosed within engraved wreath on title. Eighteen-line prospectus for the work on reverse of first leaf, with the recto of the second carrying a full-page facsimile of the title of Pickering's 1844 edition of John Merbecke's 1550 'The Book of Common Prayer Noted', printed in red and black. Printer's slug on reverse of second leaf.
Phone enquries
RICHARD M. FORD
Tel: +44 20 8993 1235