Autograph Letter Signed Ph. Pusey to Lord Granville, vice president of the Board of Trade in 1848, who took a prominent part in promoting the Great Exhibition of 1851, concerning plans for the Great Exhibition.
Author:
Philip Pusey. reforming agriculturist and politician.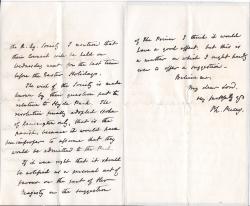 SKU: 10839
Three pages, 12mo, fold marks, tiny closed tears, mainly good condition. He is grateful that Granville has eased his anxiety. It relieves me from all uneasiness but in case you should consider it expedient to make The Queen's gracious intentions known to the R[oyal] Ag[ricultural] Society. I mention that their Council will be held on Wednesday next for the last time before the Easter Holidays. | The wish of the Society is made know by their question put relative to Hyde Park. The resolution finally adopted spoke of Kensington only, that is the parish, because it would have been improper to assume that they would be admitted to the Park. | If it were right that it should be notified as a personal act of favour on the part of Her Majesty on the suggestion of the Prince I think it would have a good effect, but this is a matter on which I ought barely even to offer a suggestion. Note: [Pusey] was one of the founders of the Royal Agricultural Society, and was chairman of the agricultural implement section of the Great Exhibition of 1851.
Phone enquries
RICHARD M. FORD
Tel: +44 20 8993 1235